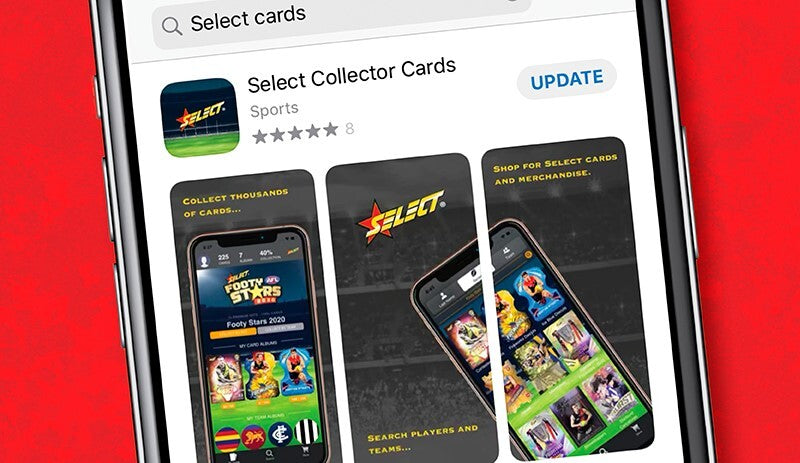 The Select Collector Cards app is now available for download for free from the Apple App Store and from Google Play. 
Use the Select App to manage your collection of your favourite series, or collect cards based on your favourite teams. Easily assess what cards you are missing from your collection, and keep track of your doubles.
To start managing your 2020 Footy Stars and 2020 Footy Stars Prestige collections, simply download the app, create an account with a valid email address and password, and from there your data will be securely stored in the Amazon Cloud. This will enable you to login from other devices, or change phones, without losing all your collection information!
When you enter the Select App you will see a section under the Footy Stars logo the option to 'COLLECT BY SET' and/or 'COLLECT BY TEAM'.  Under the COLLECT BY SET you can choose which sets you want to collect or you can choose to select the whole lot!
After you have selected the sets and / or team you wish to collect, enter the album for the particular set you wish to collect. 
You can add the cards individually or you have the option to include the whole set at once at the bottom.
You also have the option to add a value and notes about each card if you want, and you may search for individual players if you just wish to track the cards down of a particular player.
Every time you log in, you will see across the top of the Select App, the number of cards, the different sets you have selected to collect and a percentage of the number of cards you have collected to complete the series you have selected.
We hope you enjoy the Select Checklist App and we will continue to improve the App for our collectors. 
We will also be adding future and past series so you can always have your complete checklist with you.
Feedback to apps@selectcards.com.au is welcome as we further develop this product. 
Please enjoy.
Select