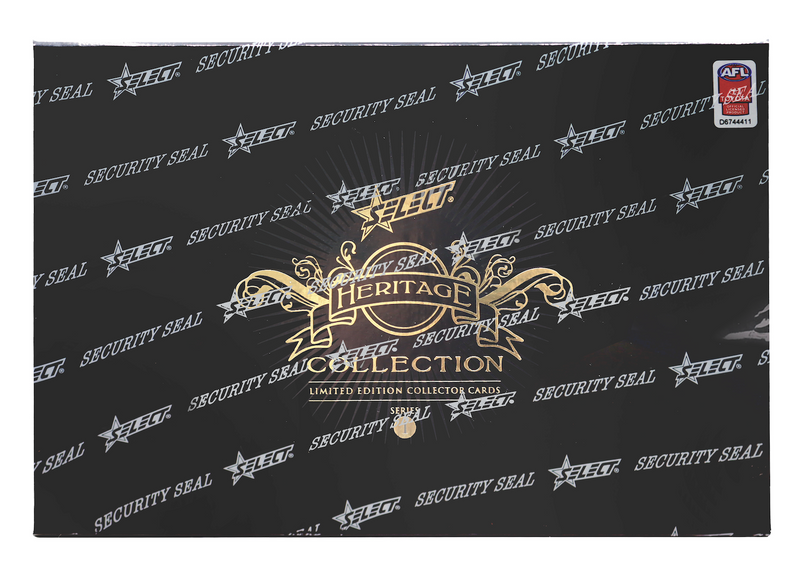 Heritage Series 1 Release Box
: Unavailable
PLEASE DO NOT ORDER ANY OTHER ITEMS ON SAME ORDER WITH THIS PRODUCT
Select brings you the Heritage Series 1 (2011) Release Box from Select, celebrating some true greats of the game.
Each box of Heritage Series 1 contains two cards each secured in a Card Safe. The series features one great from each of the 12 VFL teams.  Each great has personally signed cards and also has an unsigned action shot card.  All cards have been randomised with each box containing one personally signed card and one unsigned action card.
The Greats featured in Heritage Series 1 are:
Sergio Silvagni - Carlton
Lou Richards* - Collingwood
Ken Fraser - Essendon
John Murphy - Fitzroy/Sth Melbourne/Nth Melbourne
Charlie Sutton* - Footscray
Bob Davis* - Geelong Cats
John Kennedy Snr* - Hawthorn
Hassa Mann - Melbourne
Allen Aylett - North Melbourne
Neville Crowe* - Richmond
Bob Skilton - South Melbourne
Carl Ditterich - St Kilda/Melbourne
 *Deceased
The signature cards are individually numbered, up to 100.
The action cards are numbered to 500, but all cards in the Heritage Series 1 boxes are all numbered 100 or below.
570 Heritage Series 1 boxes have been produced and are available for purchase at $250 per box.
Maximum order of 2 boxes per household.
Only available while stocks last.
Heritage Series 1 was originally released as a complete set in 2011. This new release has been created from breaking down the original sets and randomising the cards.