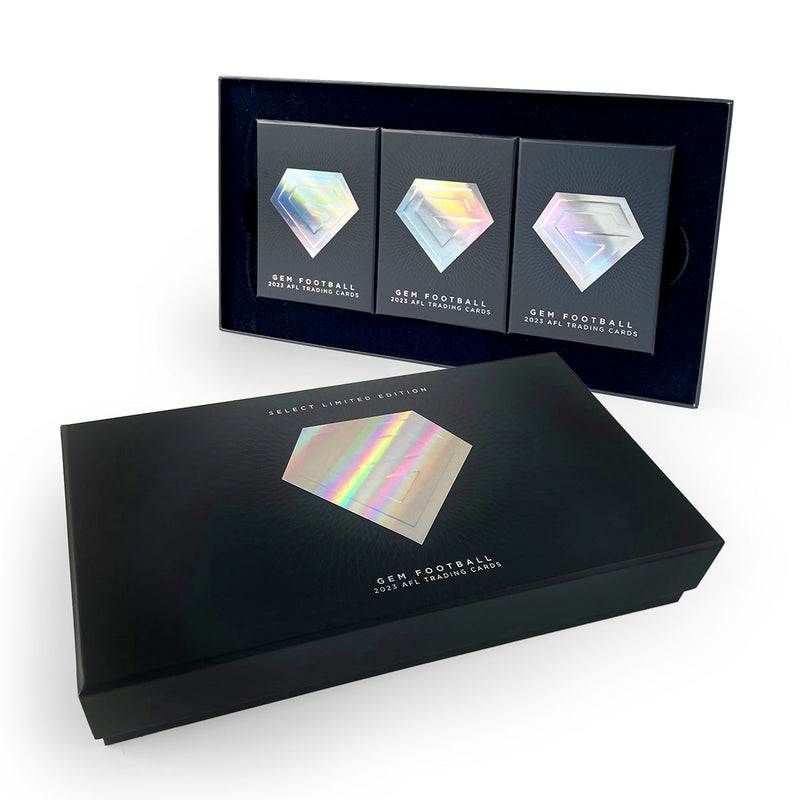 2023 AFL GEM Football Box
: Unavailable
RELEASE/SHIPPING DATE: Tuesday 8th August, 2023
----------
2023 AFL GEM Football Box. 
Each Box contains 3 individually shrink-wrapped Mini boxes with each Mini box containing 3 cards. Therefore, each 2023 AFL GEM Football Box contains a total of 9 cards.

This extremely limited (only 2525 boxes available) and unique series is produced on a 180pt board and with each insert card inlaid with a natural zircon gemstone.
2023 AFL GEM Football Release Information
2023 AFL GEM Football Checklist
Product Description:
Master Box of 2023 AFL GEM Football

Each box contains 3 sealed Mini Boxes

Each Mini Box contains 3 AFL GEM Cards.
Please read CAREFULLY:
DO NOT ORDER ANYTHING ELSE WITH THIS BOX.
Maximum of 1 box per account/person/address/IP can be purchased in the General Sale. 
M

ultiple orders from the same household/account/name/address/IP or from "related" accounts by other connections, will be cancelled. 
Misuse of the web site in any way such as with bots, cart hacks, or other unfair action will be  blocked/ cancelled. We wish to make the product available to as many collectors as possible. Cancellations are at the sole discretion of Select, and could occur at any time. 
Cancelled orders are restocked online. 

An SCC member breaking these rules, will also have their SCC membership permanently revoked, and prevented from any future renewal. D
Decisions on cancellations are at the sole discretion of Select, and all decisions will be final.
Adding this (or any) item to your cart does NOT reserve the item. This is to prevent people locking up stock in their carts, so we suggest you complete your checkout quickly.
Please do NOT order ANY other item with this product. If you order another item the WHOLE order will automatically be cancelled and refunded.
We will not ship hobby card releases to Parcel Lockers. Orders to Parcel Lockers or other similar services will be cancelled. If you wish to use a PO Box, then select Express Post shipping option.
Address changes cannot be made after purchase. 
We send all parcels with signature on delivery requirement, so if you are not able to sign, your parcel will be carded by the carrier for pickup. Customers that override that with an Authority to Leave setting, do so at their own risk with the carrier, and Select will bear no responsibility.