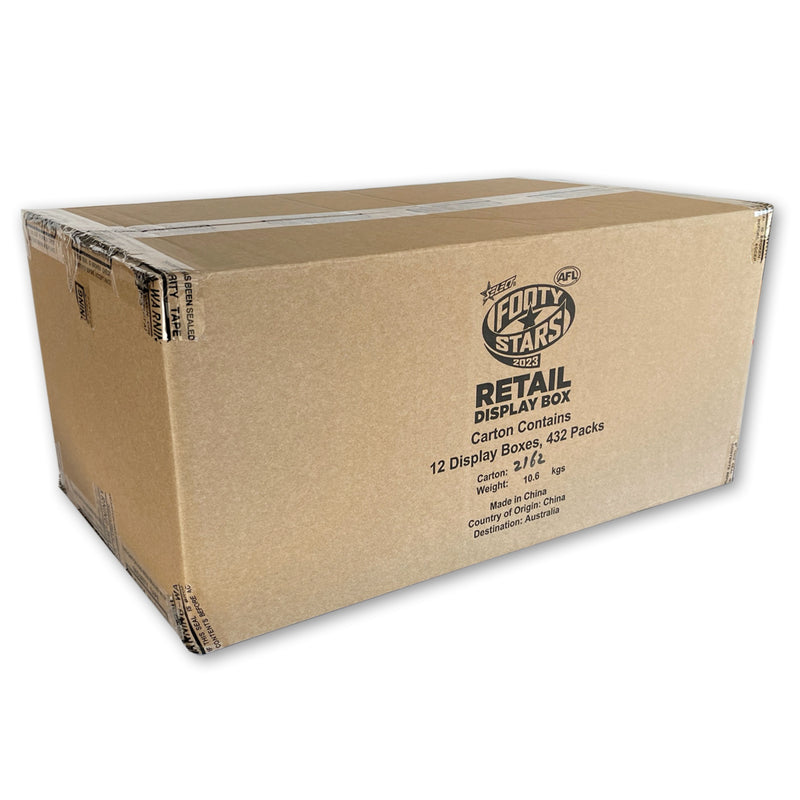 2023 AFL Footy Stars Case
: Unavailable
SOLD OUT

------------
DO NOT ORDER ANYTHING ELSE WITH THIS PRODUCT, ELSE IT WILL AUTO CANCEL.
YOU CAN STILL PURCHASE 8 BOXES SEPARATELY AS WELL.
Even though tracking will be assigned Monday, shipping from March 8th. Australia Post and Express Post options are available. 
--------------
Each sealed case from this remaining batch contains two 300 game case cards. There are 8 new case cards to collect with each card being numbered to 300 only. In addition every 7th case will contain a 300 game Signature redemption card of either Marc Murphy, Tom Hawkins, Shane Edwards, Shannon Hurn. These 4 cards are individually numbered to 50 only. Only the cases allocated to the SCC, Select's website (this remaining stock) and to specific Hobby Stores have the case cards. DON'T MISS OUT! 
----------
This product is a 2023 AFL Footy Stars sealed case, containing 12 boxes of 2023 AFL Footy Stars with 36 packs of 9 cards AND the bonus case cards.
2023 AFL Footy Stars Checklist
2023 AFL Footy Stars Release Information
Please read CAREFULLY:
Adding this (or any) item to your cart does NOT reserve the item. This is to prevent people locking up stock in their carts, so we suggest you complete your checkout quickly.
Maximum of 1 case account/person/address/IP can be purchased in the General Sale. 
M

ultiple orders from the same household/account/name/address/IP or from "related" accounts by other connections, will be cancelled. 

Misuse of the web site in any way such as with bots, cart hacks, or other unfair action will be  blocked/ cancelled. We wish to make the product available to as many collectors as possible. Cancellations are at the sole discretion of Select, and could occur at any time. 

Cancelled orders are automatically restocked online. 

An SCC member breaking these rules, will also have their SCC membership permanently revoked, and prevented from any future renewal.

Shipping from March 8th.

D

ecisions on cancellations are at the sole discretion of Select, and all decisions will be final.
Please do NOT order ANY other item with this product. If you order another item 
We will not ship cases or hobby card releases to Parcel Lockers. Orders to Parcel Lockers or other similar services will be cancelled. 
Address changes cannot be made after a purchase. 
We send all parcels with signature on delivery requirement, so if you are not able to sign, your parcel will be carded by the carrier for pickup. Customers that override that with an Authority to Leave setting, do so at their own risk with the carrier, and Select will bear no responsibility. 
Product Description:
Case of 2023 AFL Footy Stars 

Each case contains 12 boxes, and at least 2 case cards. 

Each box contains 36 packs

Each pack contains 9 cards