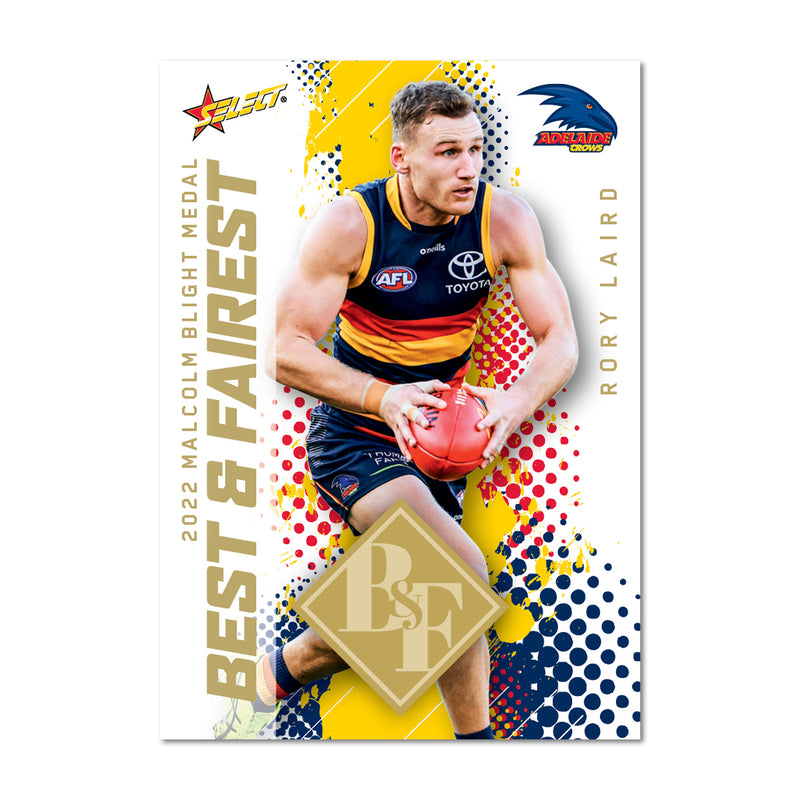 2022 AFL Club Best & Fairest Cards
: Unavailable
Presenting the stars of each of the 18 clubs with their own stunning card as part of the 2022 AFL Club Best & Fairest set.
The highest achievement at any club is to be voted as your club's Best & Fairest by club officials.
The cards will be printed with matt and gloss gold foil, suitably honouring each Best & Fairest recipient in style.
Each card will be individually numbered in gold foil on the back of the card.
The cards are available individually, or as a set of all 18 cards, and will be made and numbered based on how many of each card are sold in the order period. There are no limits on the number of cards that can be ordered.
Please note that production of the cards could take 4-5 weeks. 
The order period is 7pm Friday January 13th to 7pm Monday January 16th 2023 (Melbourne Time).
DO NOT ORDER ANY OTHER ITEMS WITH THESE CARDS ELSE THE ORDER WILL BE CANCELLED.
The 2022 AFL Club Best & Fairest Cards are $19.99 each, plus flat $6.50 for Australia Post (no matter how many cards are ordered).
Once the order period is over, orders are strictly closed. No further orders are accepted, EVER. The cards are printed after the order period closes. Printing and dispatch WILL take 4-5 weeks from the time the order period closed. You will receive an email with confirmation tracking number once your order has been dispatched.
Please note:
• the amount of each card ordered will determine the quantity printed (eg. If 75 are ordered then ONLY 75 are printed). 
• cards will be uniquely numbered (eg. 01 to 75 if 75 are printed)
• consecutive numbers, or specific numbers STRICTLY CANNOT BE REQUESTED
• cards are allocated at random, and NOT in the order they are placed
• for the set of 18 cards, each card will be RANDOM numbers (NOT the same number on each card)