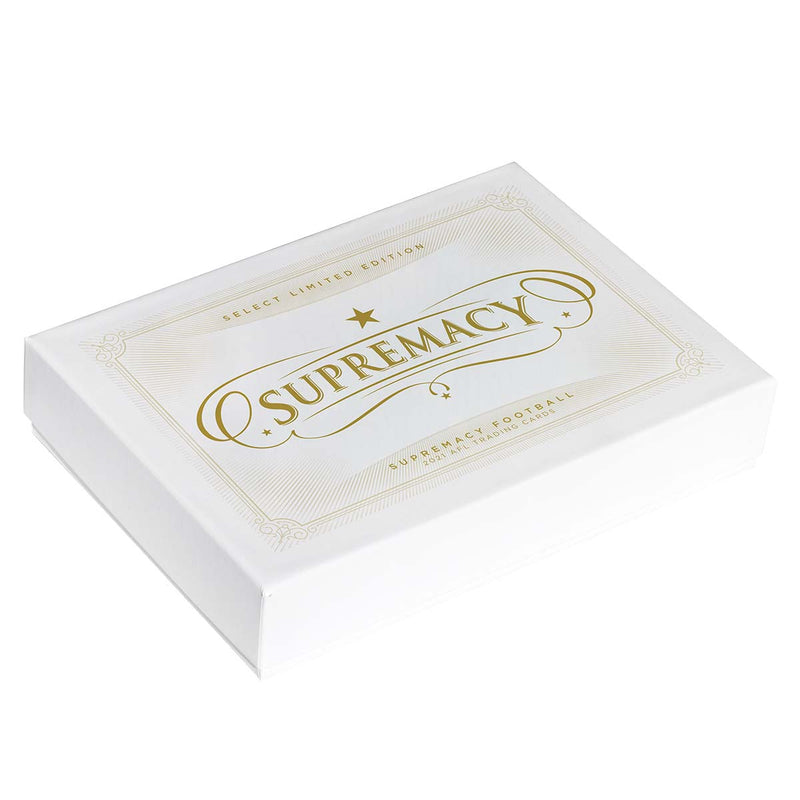 2021 Supremacy Box
: Unavailable
Supremacy is SOLD OUT!
Thank you collectors!

-----



All orders ship on the official release date, which is Monday, November 29th. 
2021 Supremacy Release Information
Supremacy cards are all 130pt thickness, and suitable Card Armour can be ordered separately here.
Please read CAREFULLY:
Maximum of 1 box per person/address/account.
Adding this (or any) item to your cart does NOT reserve the item. This is to prevent people locking up stock in their carts. Purchase of the product is only finalised on successful payment and confirmation email.
Multiple orders from the same household/account/name/address or from "related" accounts by other connections, will be cancelled. We wish to make the product available to as many collectors as possible. Cancellations are at the sole discretion of Select, and could occur at any time. Cancelled orders are automatically restocked online. An SCC member breaking these rules, will also have their SCC membership permanently revoked, and prevented from any future renewal. 
Decisions on cancellations based on those rules are the sole discretion of Select, and all decisions will be final. 
Please do NOT order ANY other item with this product. If you order another item with this product, the order will be cancelled and the stock released.
During checkout, selected orders will be automatically sent a one time by code by SMS to verify the account holder's mobile phone number. 
Product Description:
Box of Supremacy 2021

Each box contains 1 pack

Each pack contains 10 cards