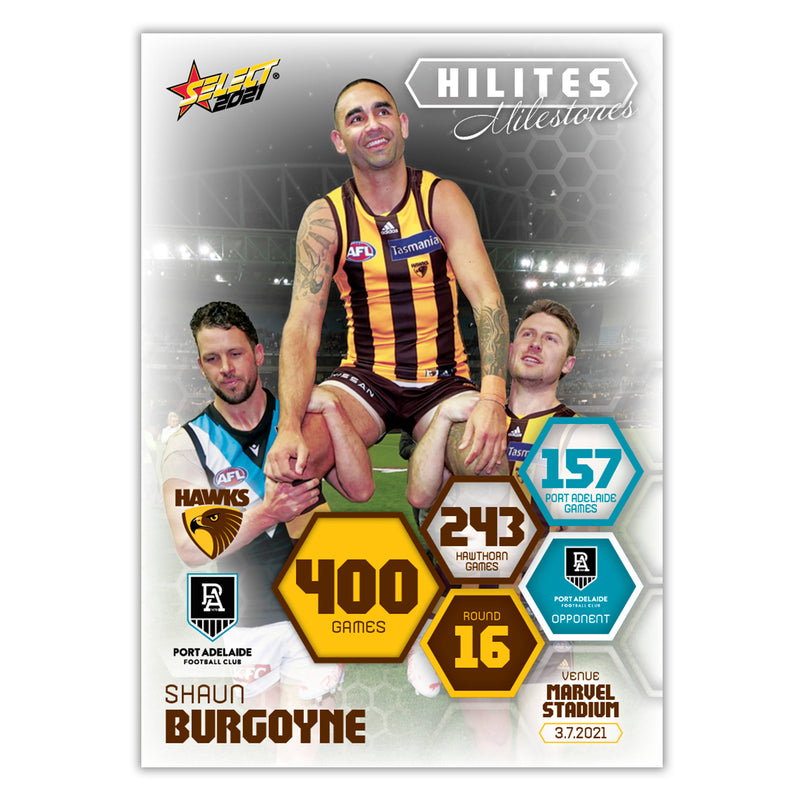 2021 Hilites Milestones - Shaun Burgoyne - 400 Games
: Unavailable
The monumental career of the man known as "Silk" reached a new high in Round 16 when he became only the fifth player in AFL history to play 400 games - appropriately against the side he played the first 157 matches with in his 20-season career. The classy utility with the sublime skills, who has played in 4 premierships (Port Adelaide 2004, Hawthorn 2013-15), was celebrated throughout the night, and chaired from the ground by current teammate Liam Shiels and former teammate Travis Boak.
This card is only available for 24 hours. Once the order period is over, orders are strictly closed. No further orders are accepted, ever. The cards are printed after the order period closes, for the quantity ordered. Please allow up to 21 DAYS for printing and delivery. You will receive an email with Australia Post tracking number once your order has been dispatched.
The order period is 12 noon Wednesday July 7th to 12 noon Thursday July 8th 2021 (Melbourne Time).
Please note:
• the amount of each card ordered will determine the quantity printed (eg. If 75 are ordered then ONLY 75 are printed)
• cards will be uniquely numbered (eg. 1 to 75 if 75 are printed)
• all cards are allocated at random, and NOT in the order they are placed