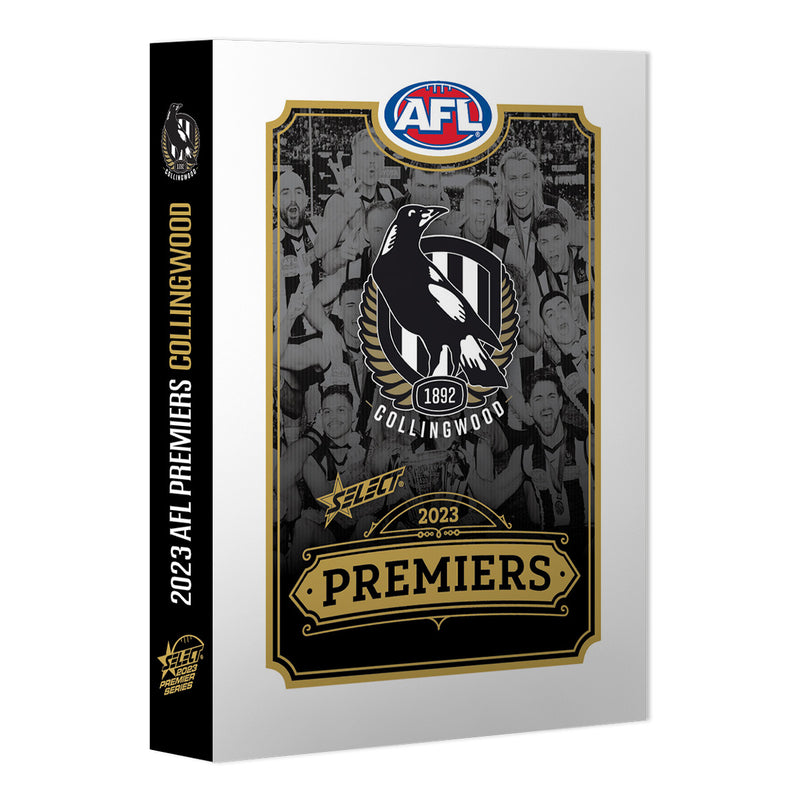 2023 AFL Collingwood Premiers Commemorative Card Set
: Unavailable
SOLD OUT from Select, available from other stores including Kmart: https://www.kmart.com.au/product/afl-1892-collingwood-select-2023-premiers-card-set-43369577/
---------------
Congratulations to the Collingwood Magpies on winning the 2023 AFL Grand Final!
The Official AFL Collingwood Limited Edition Premiers boxed set is a 25 card set commemorating the 2023 Grand Final winners!
Sets are also available at Kmart, Rebel Sport, Hobby Stores, AFL Stores, and the Collingwood FC store for the special CLUB EDITION. 
Collingwood FC EXCLUSIVE Club Edition: https://shop.collingwoodfc.com.au/collingwood-limited-edition-official-afl-premiers-card-set/
(Club Edition of the set is exclusive to Collingwood. Features a special Club Edition gold stamp on the cover as well as every card in this very rare commemorative card set. )
LIMITED EDITION. 
| | | | |
| --- | --- | --- | --- |
| 2023 AFL COLLINGWOOD PREMIERS SET |   |   |   |
| PCG | 1 | Header | Card |
| PCG | 2 |  Jordan | De Goey |
| PCG | 3 |  Isaac | Quaynor |
| PCG | 4 |  Brayden | Maynard |
| PCG | 5 |  Jamie | Elliott |
| PCG | 6 |  Tom | Mitchell |
| PCG | 7 |  Josh | Daicos |
| PCG | 8 |  Scott | Pendlebury |
| PCG | 9 |  Darcy | Cameron |
| PCG | 10 |  Billy | Frampton |
| PCG | 11 |  Steele | Sidebottom |
| PCG | 12 |  Bobby | Hill |
| PCG | 13 |  Jack | Crisp |
| PCG | 14 |  Nathan | Murphy |
| PCG | 15 |  Darcy | Moore |
| PCG | 16 |  Beau | McCreery |
| PCG | 17 |  Will | Hoskin-Elliott |
| PCG | 18 |  Jack | Ginnivan |
| PCG | 19 |  Nick | Daicos |
| PCG | 20 |  Oleg | Markov |
| PCG | 21 |  Jeremy | Howe |
| PCG | 22 |  Brody | Mihocek |
| PCG | 23 |  Mason | Cox |
| PCG | 24 |  Patrick | Lipinski |
| PCG | 25 | Team | Photo |