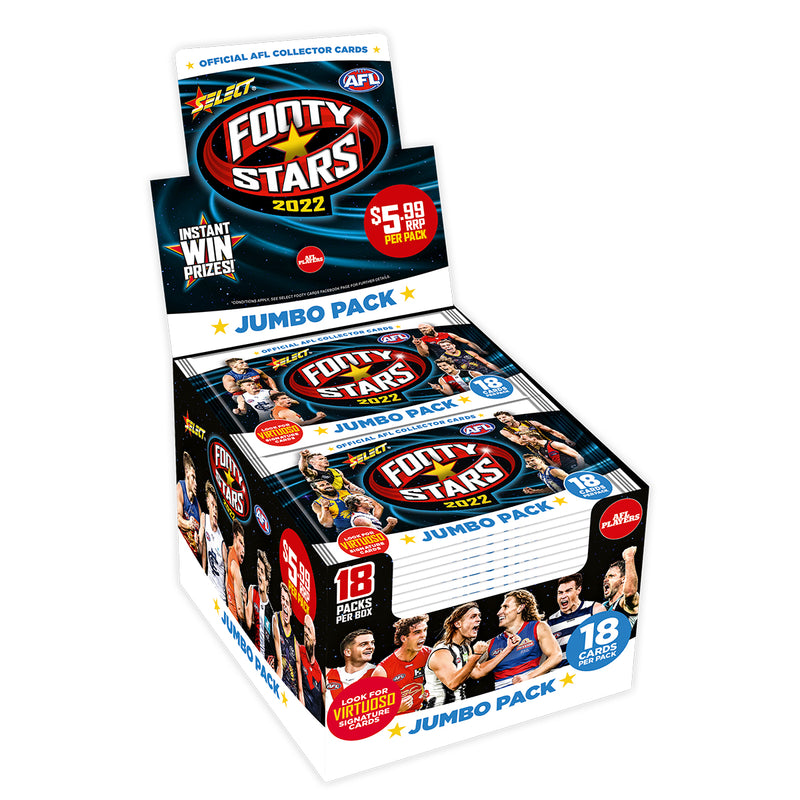 2022 AFL Footy Stars Jumbo Box
: In stock
In Footy Stars Jumbo you could find valuable signature cards from some of the biggest names in the game including Dustin Martin. Sam Walsh, Taylor Adams, Christian Petracca, Jack Steele and Bailey Smith. With a bunch of other cool numbered inserts in each box, this product is excellent value! Every 8th box also comes with a Virtuoso pack! 
Order this product on its own for free shipping.  
Sealed Footy Stars Jumbo box, each containing 18 packs of 18 cards  
STILL MANY DUSTIN MARTIN, SAM WALSH AND OTHER SIGNATURE CARDS TO FIND!
 Footy Stars cards are the normal size and normal 35pt thickness, and suitable Card Armour can be ordered separately here.
2022 Footy Stars Jumbo Release Information
Every 8th box comes with the Virtuoso Pack case card  
Product Description:
Sealed box of 2022 Footy Stars Jumbo

Each box contains 18 packs

Each pack contains 18 cards