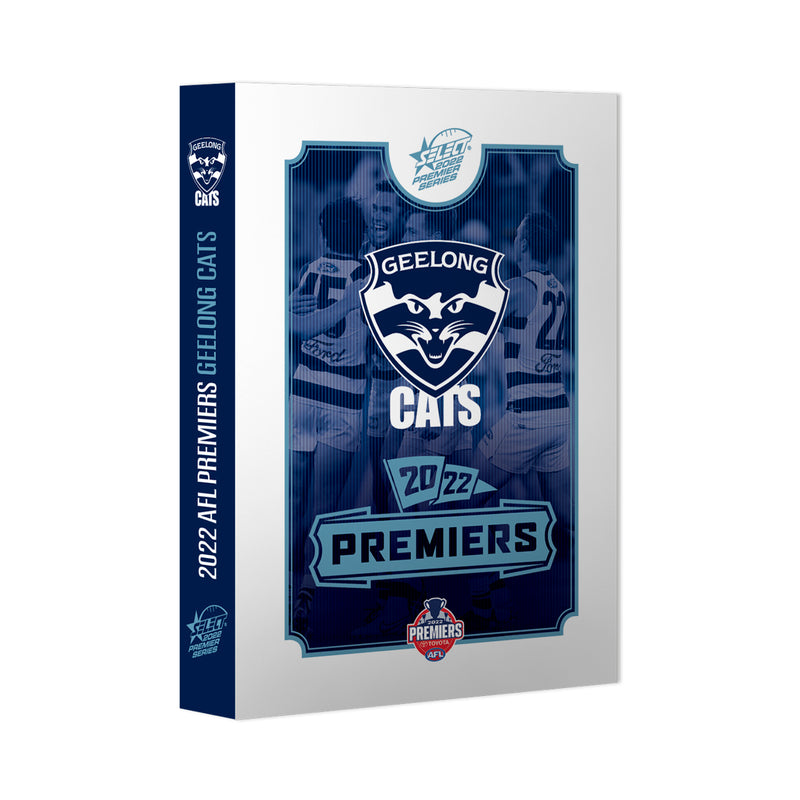 2022 AFL Geelong Cats Platinum Premiers Set
: Unavailable
The Geelong Cats Platinum Limited Edition Premiers boxed set is a 26 card set commemorating the 2022 Grand Final winners! Only 100 have bee produced.
The sets will be individually numbered to 100, with the matching #/100 on each card, AND include a SIGNATURE card of a player from the premiership team in each set! 
UPDATE: Signature Card is JEREMY CAMERON!
Checklist:
Card Number
First Name
Surname
Guernsey Number
PCP1
Header
Card
PCP2
Rhys
Stanley
1
PCP3
Zach
Tuohy
2
PCP4
Jeremy
Cameron
5
PCP5
Isaac
Smith
7
PCP6
Jake
Kolodjashnij
8
PCP7
Joel
Selwood
14
PCP8
Sam
De Koning
16
PCP9
Tyson
Stengle
18
PCP10
Mitch
Duncan
22
PCP11
Gary
Rohan
23
PCP12
Jed
Bews
24
PCP13
Tom
Hawkins
26
PCP14
Cameron
Guthrie
29
PCP15
Tom
Atkins
30
PCP16
Gryan
Miers
32
PCP17
Patrick
Dangerfield
35
PCP18
Jack
Henry
38
PCP19
Zach
Guthrie
39
PCP20
Mark
O'Connor
42
PCP21
Tom
Stewart
44
PCP22
Brad
Close
45
PCP23
Mark
Blicavs
46
PCP24
Brandan
Parfitt
3 (Medical Sub)
PCP25
Team Photo
PCP26
Signature
Card
Jeremy Cameron 
Please read CAREFULLY:
Maximum of ONE Platinum Set per person/address/account.
Multiple orders from the same household/account/name/address/IP or from "related" accounts by other connections, will be cancelled. 
Misuse of the web site in any way such as with bots, cart hacks, or other unfair action will result in cancellation. We wish to make the product available to as many collectors as possible. Cancellations are at the sole discretion of Select, and could occur at any time.
Since this is pre-order, please do NOT order ANY other item with this product. If you order another item with this product, the order will be cancelled. 
Adding this (or any) item to your cart does NOT reserve the item. This is to prevent people locking up stock in their carts. Purchase of the product is only finalised on successful payment and confirmation email.
The numbered sets are allocated randomly at time of packing and shipping, and are in no way correlated to the sequence in which the order is placed. No specific numbers can be requested.
The sets are individually numbered to 100, with 100 only being produced.
This product is anticipated to ship by mid-December.
Box design is subject to change.