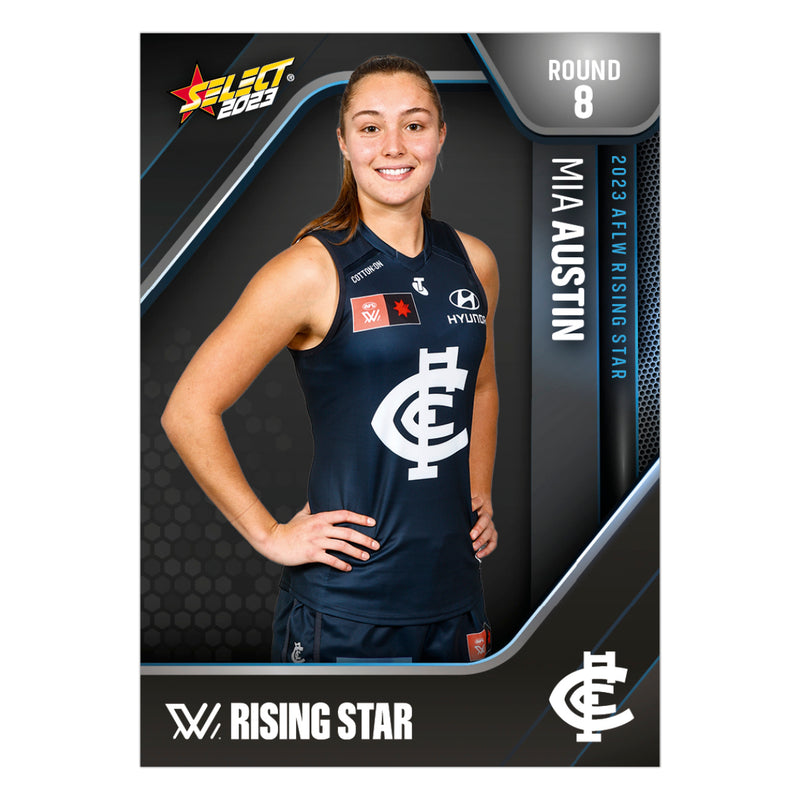 AFLW Season 8 Round 8 Rising Star - Mia Austin - Carlton
: Unavailable
Austin is a rising key forward who has rebounded from a tough first season, missing most of it with a bad ankle/lower-leg break. She's produced a very consistent 2023, hitting the scoreboard often despite sometimes limited opportunity. Strong in the air and on the ground, she kicked two goals from her 10 disposals against the GIANTS.
PLEASE DO NOT ORDER OTHER ITEMS WITH THESE CARDS. THESE ITEMS WILL BE CANCELLED AND REFUNDED.

Each round's Select Hilite and Rising Star cards are only available for 24 Hours . Once the order period is over, orders are strictly closed. No further orders are accepted, ever. The cards are printed after the order period closes, for the quantity ordered. Please allow up to 21 DAYS for printing and delivery. You will receive an email with Australia Post tracking number once your order has been dispatched. Please do not order other items in the same order as Hilites/Rising Star cards. 
This cards order period is 12 noon Tuesday October 24th to 12 noon Wednesday October 25th (Melbourne Time).
Please note:
• nothing else can be purchased with these two cards, since they are pre-order and shipping is subsidised by us. ordering anything else with these cards will trigger our system to cancel and refund the whole order.
• the amount of each card ordered will determine the quantity printed (eg. If 75 are ordered then ONLY 75 are printed)
• cards will be uniquely numbered (eg. 1 to 75 if 75 are printed)
• all cards are allocated at random, and NOT in the order they are placed
• consecutive numbers, or specific numbers STRICTLY CANNOT BE REQUESTED