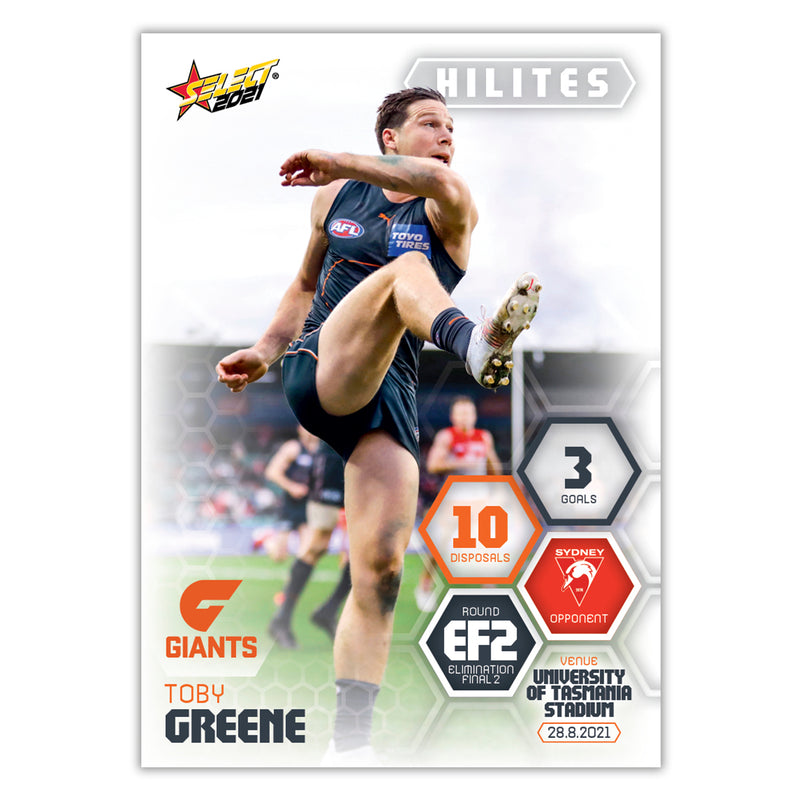 2021 Finals Week 1 EF2 - Toby Greene - GWS
: Unavailable

In the historic first final played in Tasmania, the GIANTS and their fierce rivals the Sydney Swans locked horns for their third final in just 5 years. The GIANTS maintained their unbeaten record in these games with a gripping 1-point win, powered by Greene's 3 first-half goals which helped set-up a match-winning 23-point half-time lead. The star forward kicked his team's first 2 majors and the goal in the second quarter that gave them a lead they would never relinquish.

These cards are only available for 24 hours. Once the order period is over, orders are strictly closed. No further orders are accepted, ever. The cards are printed after the order period closes, for the quantity ordered. Please allow up to 21 DAYS for printing and delivery. You will receive an email with Australia Post tracking number once your order has been dispatched.

This weeks order period for Week 1 EF2  is 12 noon Tuesday August 31st to 12 noon Wednesday September 1st 2021 (Melbourne Time). 
Please note:
• the amount of each card ordered will determine the quantity printed (eg. If 75 are ordered then ONLY 75 are printed)
• cards will be uniquely numbered (eg. 1 to 75 if 75 are printed)
• all cards are allocated at random, and NOT in the order they are placed
• consecutive numbers, or specific numbers STRICTLY CANNOT BE REQUESTED